Co-President 
    Emily Chen, Calhoun 2018
    Email: emily.chen@yale.edu
Emily, an Economics major, is a senior in Calhoun. Born and raised in Minnesota, she enjoys eating, hanging out with friends and exploring what New Haven has to offer. Outside of hospice, she's also involved in the Yale Entrepreneurial Society and Elmseed Enterprise.
Hospice is an incredibly fulfilling experience. Not only do you have the chance to connect and speak with patients and families and hear their stories but also to take a step back and really appreciate everything we've been given.
"Potential is universal, opportunity is not" -Wes Moore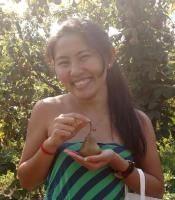 Co-President
    Sarah Oyadomari, Morse 2018
    Email: sarah.oyadomari@yale.edu 
Sarah is a senior in Morse majoring in MB&B.  She's from Honolulu, HI and likes hiking, exploring, going to Toad's, eating way too much ice cream, and meeting new people.  She spends her free time weaving in the Fiber Arts Studio, killing zebrafish embryos (for science), learning ASL, and petting dogs she meets on the streets of New Haven.
Volunteering at Hospice has been an eye-opening and humbling experience. Life is a library of rich stories, and the chance to hear patients' stories has been by far the most rewarding part of Hospice.  I joined YUCH not only to learn about end-of-life medical care, but also to help people and their families as they cherish their final moments together.
"As you grow older, you will discover that you have two hands, one for helping yourself, the other for helping others." – Audrey Hepburn